2018.06.16
YEAR OF THE DOG - RICHARD HELLER GALLERY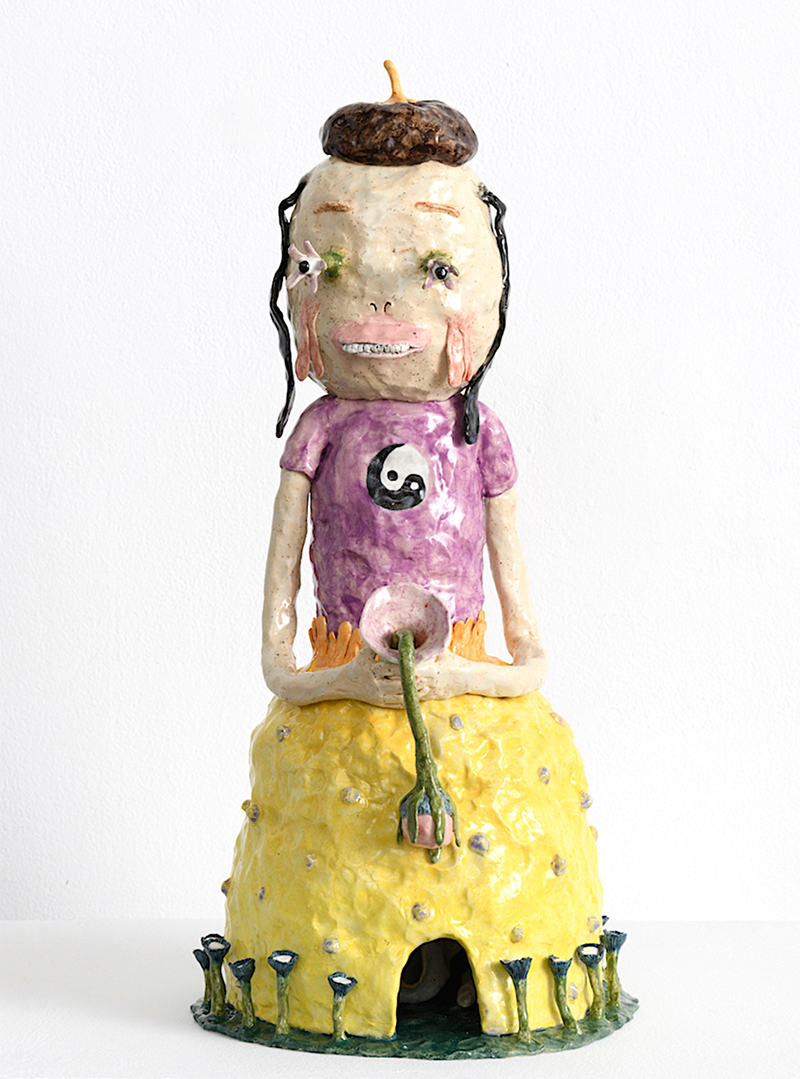 My second solo exhibition with Richard Heller Gallery opens 2018.06.16 in Santa Monica, California.
Very happy and proud over the show, check it out in Selected Works
---------------------------
2017.12.13
ANTRHOPOCENE - RUTTKOWSKI;68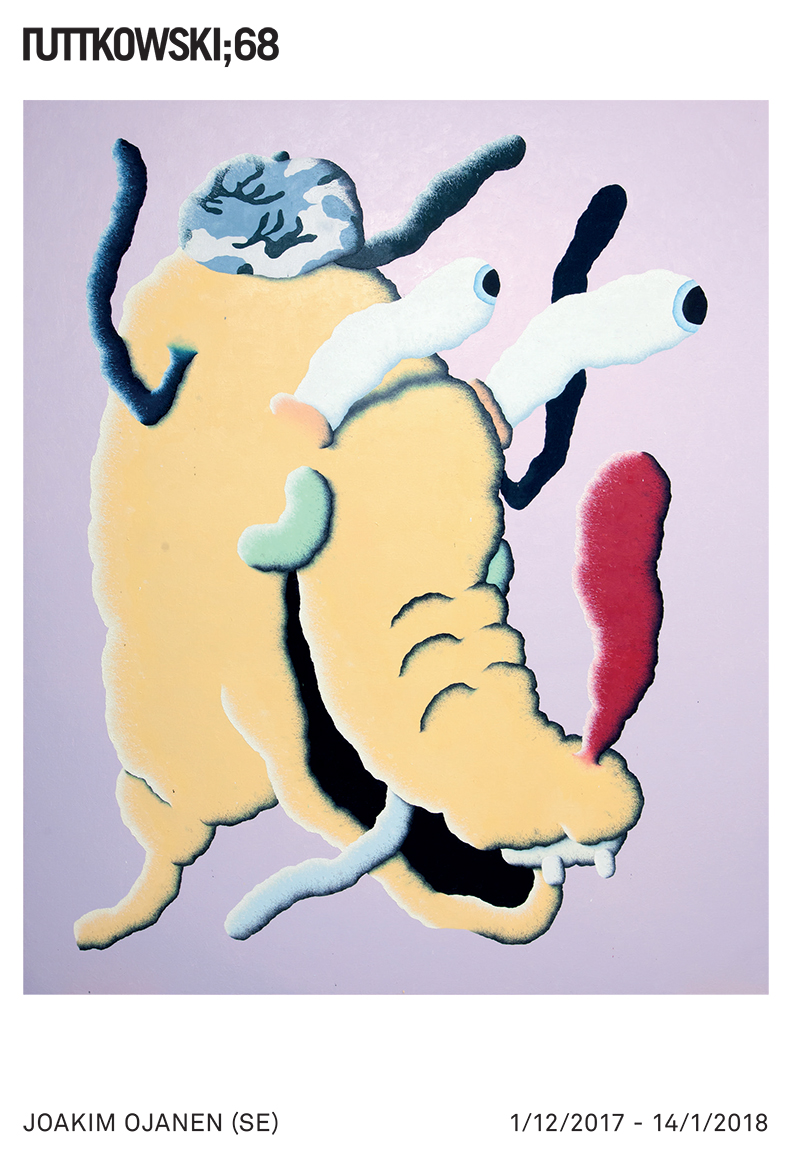 New images up on my latest and first solo exhibition at gallery Ruttkowski;68 in Cologne, Germany.
Please have a look at Selected Works
---------------------------
2017.05.25
JOAKIM OJANEN & RYAN TRAVIS CHRISTIAN - THE HOLE NYC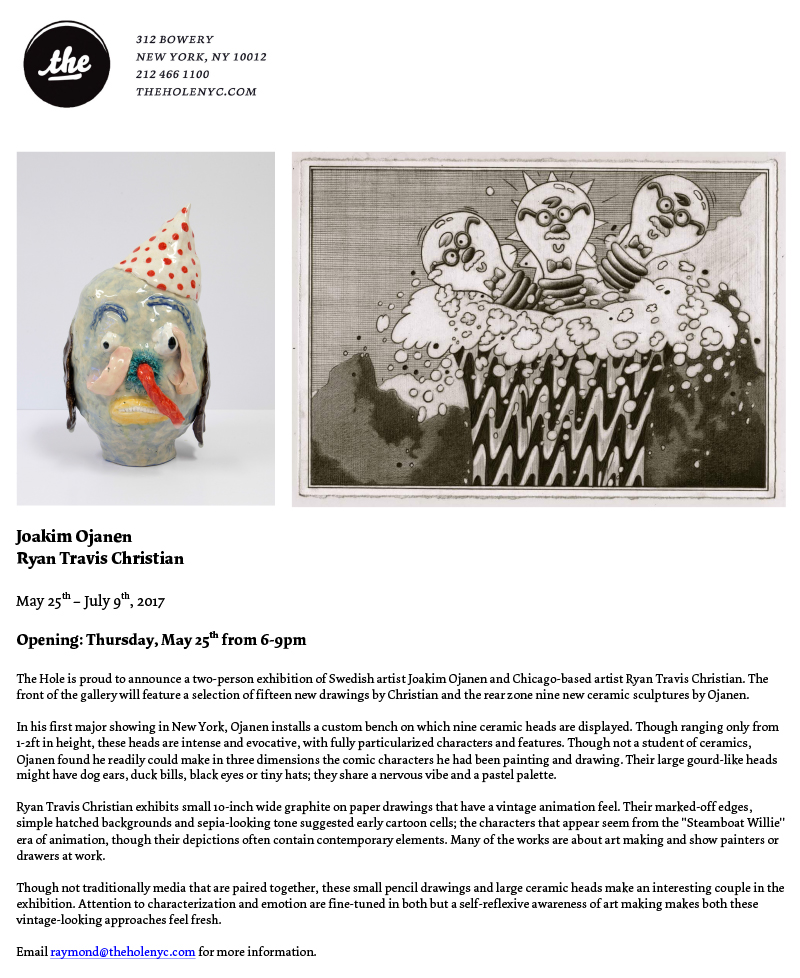 I have nine new ceramic pieces at The Hole NYC in a two person show together with Ryan Travis Christian.
The show is up May 25th – July 2nd, 2017
---------------------------
2017.04.21
OSKAR NILSSON & JOAKIM OJANEN - GALLERY STEINSLAND BERLINER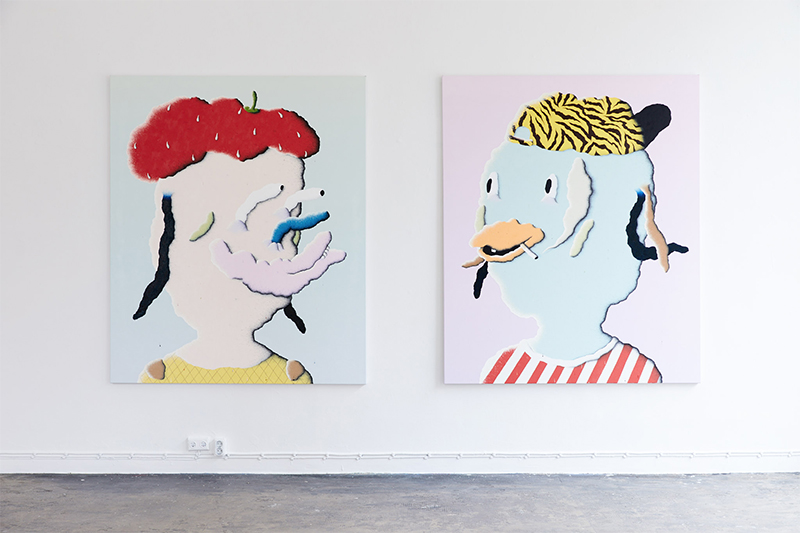 I'm showing new work at a two person exhibition at Steinsland Berliner in Stockholm together with Oskar Nilsson.
---------------------------
2017.02.19
INTERRUPTED BOREDOM - LEFEVBRE & FILS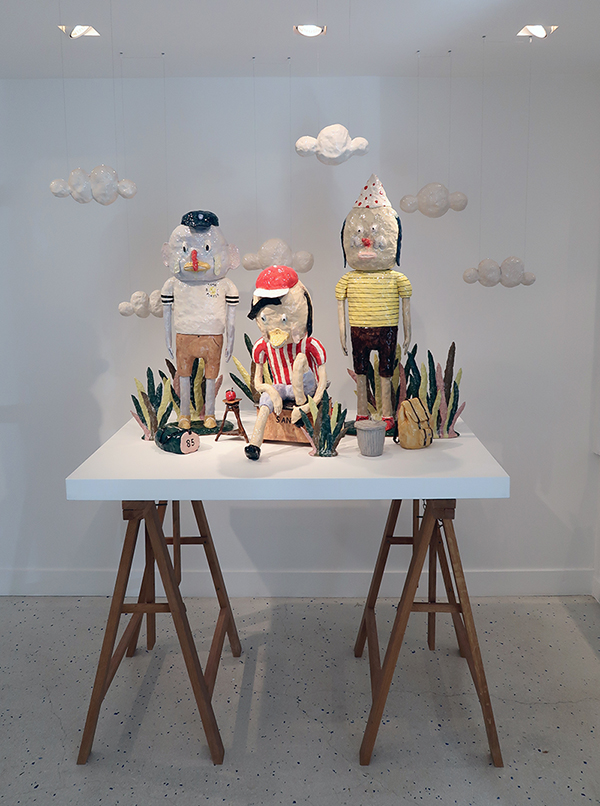 My first solo exhibition in Paris is opening 22nd of February at Lefevbre & Fils.
The exhibition Interrupted Boredom shows new ceramic works I've been doing at Lefevbre & Fils - The Residency in Versailles. The show runs for four weeks at the gallery.
Galerie Lefebvre & Fils
24, rue du Bac
75007 Paris
Welcome!
---------------------------
2016.07.23
WHAT A TIME TO BE ALIVE :( - RICHARD HELLER GALLERY
Images from my exhibition at Richard Heller Gallery is up in Selected Works
---------------------------
2016.07.23
REVIEW IN LA TIMES & THE ARTILLERY MAGAZINE
My exhibition What A Time To Be Alive :( got a great review in LA Times, click on the image to read the review!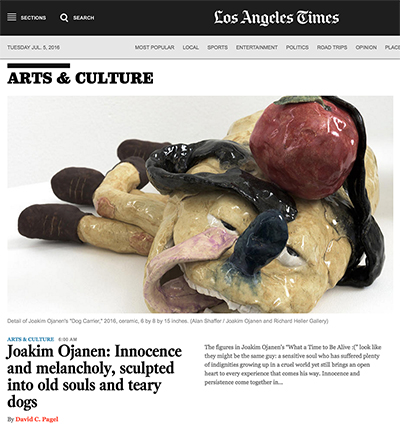 The Artillery Magazine also gave the show a great review and it was the PICK OF THE WEEK!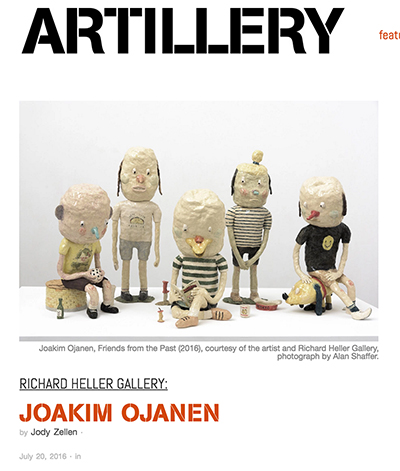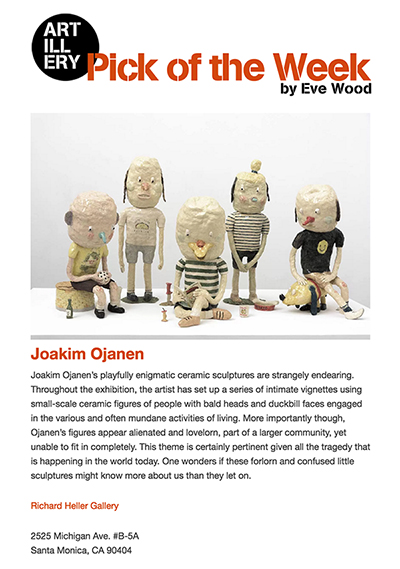 2016.06.15
WHAT A TIME TO BE ALIVE :( - RICHARD HELLER GALLERY


What A Time To Be Alive :(
I will show new sculptures and paintings at Richard Heller Gallery, Los Angeles. This is my first solo exhibition at Richard Heller Gallery and in the United States.
I've been living in Los Angeles for the past few months creating work for this exhibition and will be attending the opening reception on June 25.
Welcome!
---------------------------
2016.05
SWEDISH ART: NOW!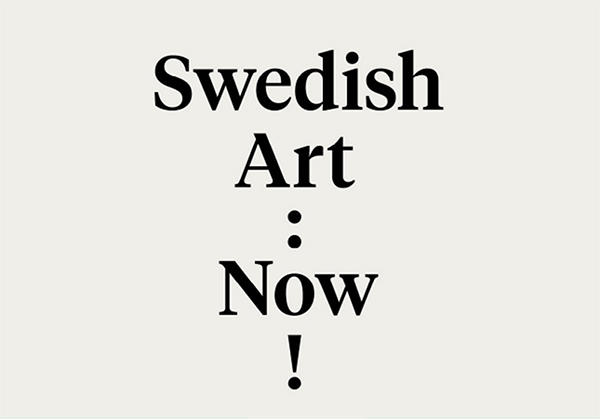 20.04—06.06 2016, Group show at Sven Harrys Konstmuseum, Stockholm.
---------------------------
2016.04.21
HUMÖRSVÄNGNINGAR - EBELINGMUSEET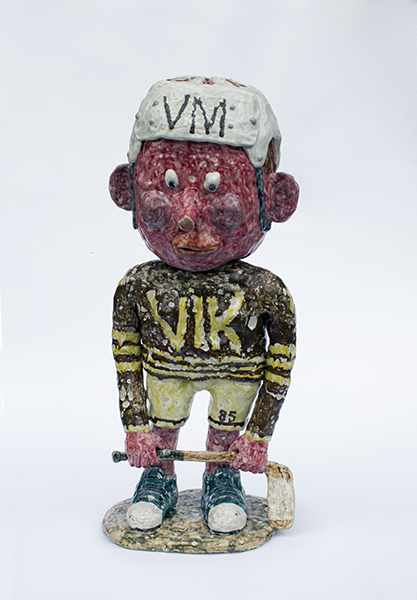 19.03-8.5 2016, Solo exhibition at Ebelingmuseet, Torshälla, Eskilstuna.
Review here: Eskilstuna Kuriren
---------------------------
2016.01.31
UPDATE - NEW WORKS - PASSAGEN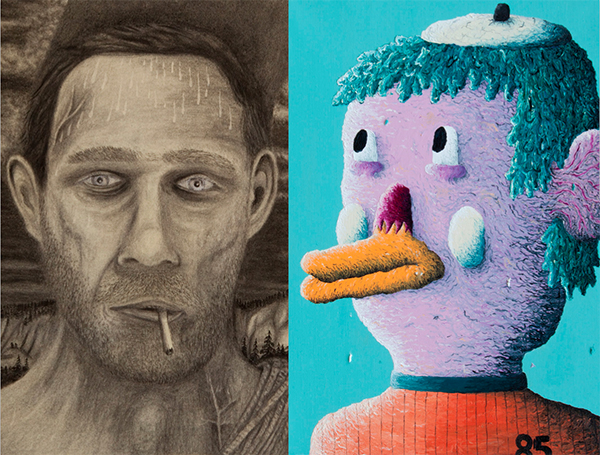 JEFF OLSSON & JOAKIM OJANEN
23.1–6.3 2016, Passagen Linköpings konsthall
Images from my exhibition together with Jeff Olsson at Passagen Linköpings Konsthall in SELECTED WORKS
Reviews of the show here: Omkonst
and here: Corren
---------------------------
2015.10.08
UPDATE - NEW WORKS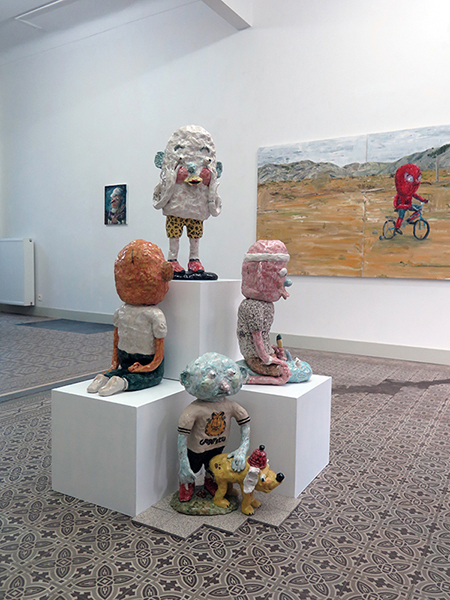 Update with some new pictures of works and my latest solo show A SHOW ABOUT NOTHING at The Bries Space in Antwerp, Belgium. You find the images in Selected Works.
My sculpture Korvdjur will be auctioned off at Södra Teatern for the benefit of the Syrian refugees 11/10 at Södra Teatern in Stockholm, you can also pre-bid and look at all the artworks at www.artistsforrefugees.com
---------------------------
2015.09.01
POWERFUL BABIES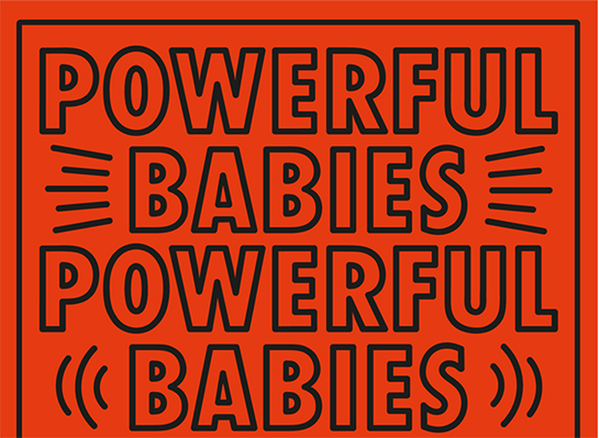 Very happy to be part of this group show at Sprit Museum in Stockholm, Sweden. There is so many great artist that will be in the show, can't wait!
25th September 2015 - 3rd April 2016.
Spiritmuseum, home of the Absolut Art Collection, is pleased to announce Powerful Babies: The Impact of Keith Haring on Art Today, a group exhibition of 25 international artists inspired by the legacy of Keith Haring (1958-1990). Curated by Bill Arning, Director of Contemporary Arts Museum Houston, and Rick Herron, New York-based independent curator, the exhibition reconsiders Haring's career and achievements through recent work, commissions and a series of programs and events conceived by emerging and established artists from around the world to highlight the ubiquitous influence Haring has had on contemporary art and artists working today.
Artists now are wilder than ever and respect no boundaries in terms of where their art exists or how it is distributed, making work in ways previously unimaginable. Organized on the occasion of the 25th anniversary of Keith Haring's death, Powerful Babies seeks to honor his legacy as the artist who made this way of working possible. The exhibition includes work by Michael Alan, Tad Beck, Katherine Bernhardt, Tobias Berstrup, Allen Grubesic, Lori Ellison, Steven Evans, Trenton Doyle Hancock, John Hanning, Juliana Huxtable, Scooter LaForge, Thedra Cullar-Ledford, Kristina Matousch, Klara Liden, J. Morrison, Raul de Nieves, Joakim Ojanen, Przemek Pyszczek, Emily Royson, Alexander Tovborg and Jaimie Warren, alongside artists featured in the Collection with a strong connection to Keith Haring, including Lee Quinones, Kenny Scharf, Julia Watchel and Andy Warhol.
---------------------------
2015.05.24
BEHOLD! THE BLOB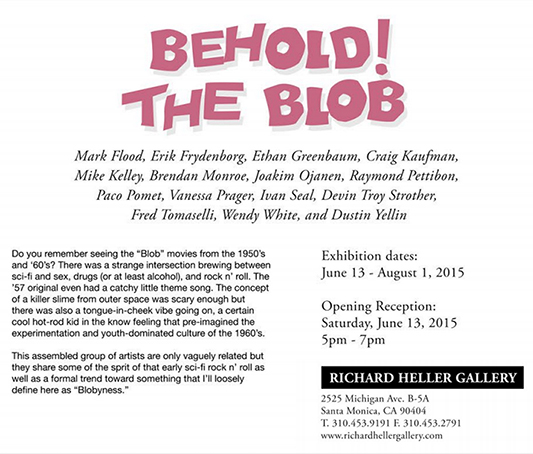 I will show some work in the group show BEHOLD! THE BLOB at Richard Heller Gallery in Santa Monica, California, USA next month.
---------------------------
2015.04.21
VÄNTRUM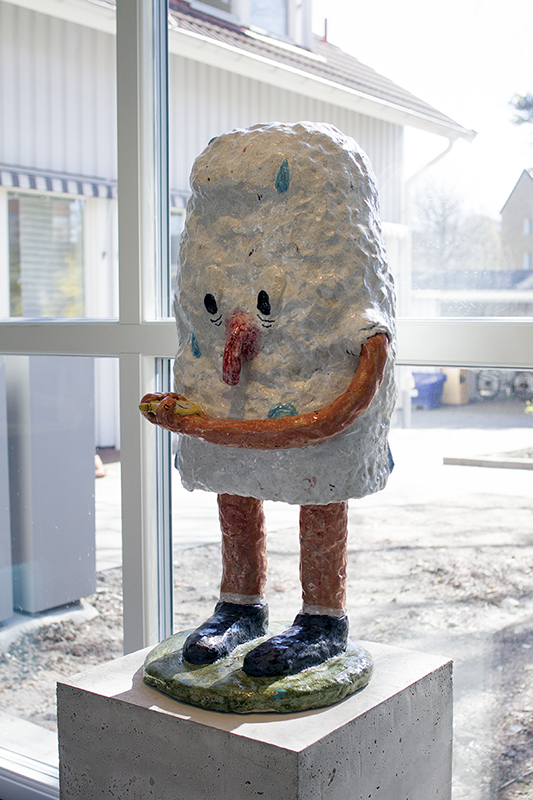 Commissioned work for the city of Gothenburg is up in Selected Works.
I did a sculpture and a painting for a waiting room for youths with drug problems at Mini Maria in Gothenburg, enjoy!
---------------------------
2015.04.20
MARKET ART FAIR 2015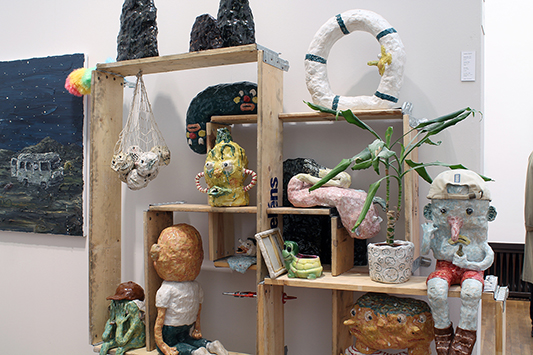 Pictures from Market Art Fair 2015 at Liljevalchs Konsthall, Stockholm is now up, see them here.
---------------------------
2015.03.31
GROUPSHOWS
I got works in two groupshows starting this week!
Samlat 2010 - 2014 at Västerås Konstmuseum, Sweden 2 April - 24 May 2015.
Påsksalongen at Galleri Thomassen in Gothenburg, Sweden 2 - 30 April 2015.
2015.02.01
MARKET ART FAIR 2015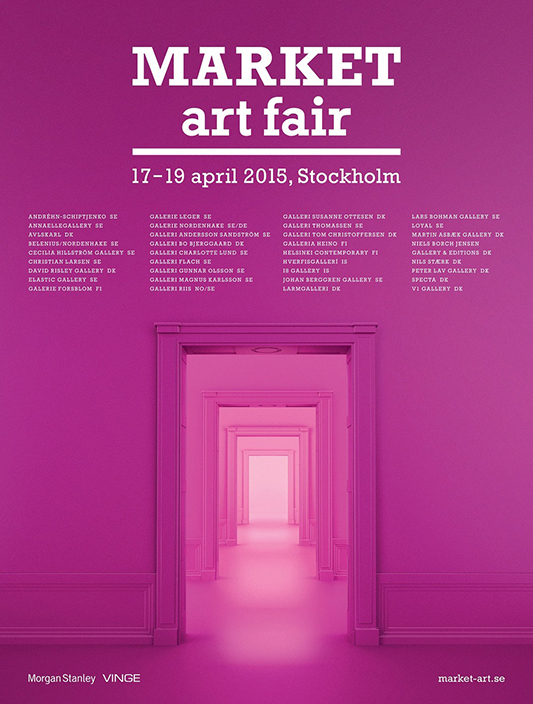 Next up is Market Art Fair in Stockholm. I will show new sculptures together with Gallery Thomassen.
17-19 April 2015, Liljevalchs Konsthall, Stockholm.
---------------------------
2014.11.24
WINTER SHOW 2014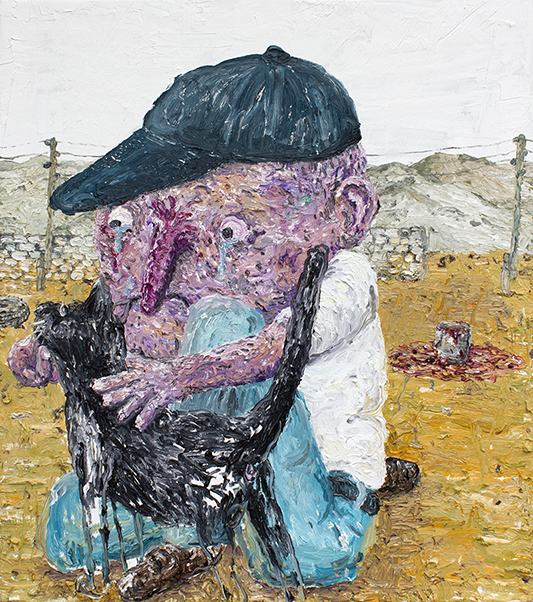 I got some paintings and sculptures at Charlotte Fogh Gallery at their Wintershow 2014.
Charlotte Fogh Gallery
Wintershow 2014
5. december – 3. january
Jonas Liveröd (SE), Michael Swaney (CAN), Guilliermo Carrion (ES), Joakim Ojanen (SE), Kristian Devantier, Christian Finne, Peter Linde Busk, Anders Brinch
---------------------------